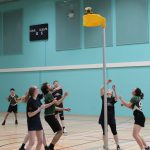 Phoenix play Korfball which is a fantastic mixed team sport.
Korfball is fast-paced, fun and great exercise.  It is suitable for all ages and abilities.
With 8 players in a Korfball team, 4 men and 4 women, the court is split into two, and has 2 groups of 4 (2 male and 2 female) at each end of the court.  One set of 4 are the teams attack, and the other group of 4 are the teams defence.  After 2 goals are scored, the groups switch ends and roles, allowing each player to both attack and defend during a game.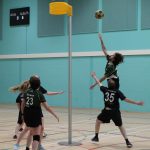 At Phoenix Korfball club, the first 3 sessions are free, so you can come along and try some taster sessions.  We are a very friendly and sociable club based in Cambridge.  We play inside, in a local Cambridge League during October to May, and during the summer there are outdoor Summer tournaments that we can attend.  We train all year round.
Training Adults & youths 14+ every Monday @ CRC 8.15pm to 9.15pm
Juniors aged 6-13 Mondays @ CRC 7.15pm to 8.15pm